Chair Covers Online - Outdoor - Patio - Garden Chairs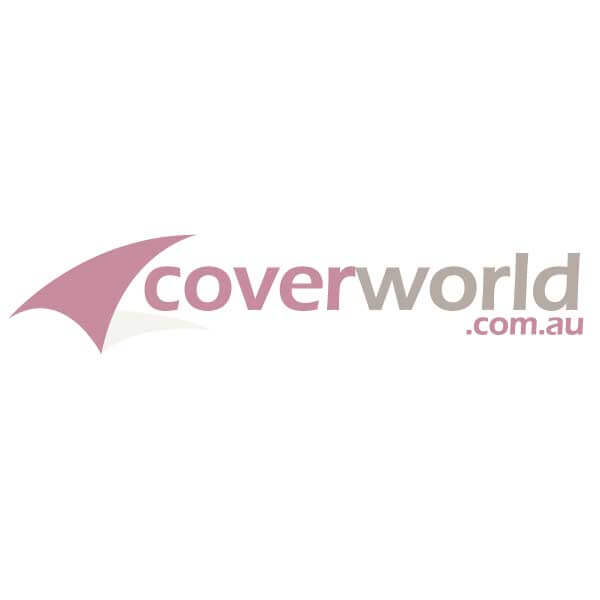 Coverworld offer a wide range of covers for Patio Chairs manufactured from a High Quality 600 Denier Woven Polyester Fabric with a 1200mm waterproof PU Inner coating. All of the chair covers available are manufactured with quality features including :
Elastic Hem
Securing Strap with Side Release Buckle
Drawcord for additional security
Breather vent designed to reduce moisture build up
Good Quality Durable Fabric
If you have MODULAR style chairs that have similar arm and Back Height View the Modular Chair Covers Here
Coverworld Furniture Covers are waterproof, they have a PU coating on the inside to prevent water from penetrating the fabric, they are designed for some outdoor use but are ideally suited under a patio roof. It is possible for water to penetrate the Woven fabric with a heavy weight of water pressure.
COVERCLAMPS

Coverworld Cover Clamps

Adjustable clamps on cords to help hold covers in place
Recommended when using covers for long term storage
Easy to Install
Easy solution for keeping covers where they belong
Cover Clamps kit contains 4 x Hem Clamps and 2 x 2 m cords

VALUEPACK-PATIO3

Save $$$ with a Patio Outdoor Furniture Care VALUE Pack from Coverworld

Excellent value - perfect for gifts! RRP over $92

Great gift idea for the entertainer!

This Pack includes: 1x 303 Multi-Surface Cleaner (946ml), 1x 303 Aerospace Protectant (473ml), and 1x 303 Fabric Guard (473ml)

Unsurpassed cleaning & UV screening protection!
Non-toxic, Silicone-free and Biodegradable
Keeps tonneaus looking new
Prevents fading and cracking
Restores lost colour and lustre
Powerful UV blockers
Anti-Static, repels smudges, dust, soiling and staining
Easy to apply & use
Safe and effective for vinyl, clear vinyl, gel-coat, fiberglass, carbon fiber, synthetic/natural rubber, plastics and finished leather

Regular Price: $92.95

Special Price: $65.00

CHR-103-GRY

Currently Out of Stock until further notice. Please consider choosing an alternate size. Please contact us if you wish to discuss this product.

Patio Chair Cover | Designed for Chairs with Armrests

Length 650mm (L) (Left to Right)
Depth 700mm (W) (Front to Back)
Height 850mm (H) (Top to Bottom)
Neutral Grey Colour
New Waterproof Taped Seams
New Premium + Fabric
1 Year Warranty

CHR-101-GRY

Currently Out of Stock until further notice. Please consider choosing an alternate size. Please contact us if you wish to discuss this product.

Patio Chair Cover | Designed for Chairs with Armrests

Length 700mm (L) (Left to Right)
Depth 750mm (D) (Front to Back)
Height 800mm (H) (Top to Bottom)
Neutral Grey Colour
New Waterproof Taped Seams
New Premium + Fabric
1 Year Warranty

CHR-121-GRY

Currently Out of Stock until further notice. Please consider choosing an alternate size. Please contact us if you wish to discuss this product.

Patio Chair Cover | Designed for Chairs with Armrests

Length 600mm (L) (Left to Right)
Depth 600mm (D) (Front to Back)
Height 850mm (H) (Top to Bottom)
Neutral Grey Colour
New Waterproof Taped Seams
New Premium + Fabric
1 Year Warranty

CHR-102-GRY

Currently Out of Stock until further notice. Please consider choosing an alternate size. Please contact us if you wish to discuss this product.

Patio Chair Cover | Designed for Chairs with Armrests

Length 800mm (L) (Left to Right)
Depth 700mm (W) (Front to Back)
Height 800mm (H) (Top to Bottom)
Neutral Grey Colour
New Waterproof Taped Seams
New Premium + Fabric
1 Year Warranty

CHR-107-GRY

Currently Out of Stock until further notice. Please consider choosing an alternate size. Please contact us if you wish to discuss this product.

Patio Chair Cover | Designed for Chairs with Armrests

Length 800mm (L) (Left to Right)
Depth 900mm (W) (Front to Back)
Height 950mm (H) (Top to Bottom)
Neutral Grey Colour
New Waterproof Taped Seams
New Premium + Fabric
1 Year Warranty

CHR-104-GRY

Patio Chair Cover | Designed for Chairs with Armrests

Length 700mm (L) (Left to Right)
Depth 900mm (W) (Front to Back)
Height 900mm (H) (Top to Bottom)
Neutral Grey Colour
New Waterproof Taped Seams
New Premium + Fabric
1 Year Warranty

CHR-120-GRY

Large Patio Chair Cover | Designed for Chairs with Armrests

Length 750mm (L) (Left to Right)
Depth 850mm (D) (Front to Back)
Height 1000mm (H) (Top to Bottom)
Neutral Grey Colour
New Waterproof Taped Seams
New Premium + Fabric
1 Year Warranty

CHR-105-GRY

Currently Out of Stock until further notice. Please consider choosing an alternate size. Please contact us if you wish to discuss this product.

Patio Chair Cover | Designed for Chairs with Armrests

Length 900mm (L) (Left to Right)
Depth 900mm (W) (Front to Back)
Height 900mm (H) (Top to Bottom)
Neutral Grey Colour
New Waterproof Taped Seams
New Premium + Fabric
1 Year Warranty

CHR-108-GRY

Currently Out of Stock until further notice. Please consider choosing an alternate size. Please contact us if you wish to discuss this product.

Large Patio Chair Cover | Designed for Chairs with Armrests

Length 900mm (L) (Left to Right)
Depth 1050mm (D) (Front to Back)
Height 950mm (H) (Top to Bottom)
Neutral Grey Colour
New Waterproof Taped Seams
New Premium + Fabric
1 Year Warranty

CHR-111-GRY

Extra Large Patio Chair Cover | Designed for Chairs with Armrests

Length 900mm (L) (Left to Right)
Depth 1050mm (D) (Front to Back)
Height 1000mm (H) (Top to Bottom)
Neutral Grey Colour
1 Year Warranty

CHR-106-GRY

Oversize Patio Chair Cover | Designed for Chairs with Armrests

Length 1050mm (L) (Left to Right)
Depth 850mm (L) (Front to Back)
Height 900mm (H) (Top to Bottom)
Neutral Grey Colour
New Waterproof Taped Seams
New Premium + Fabric
1 Year Warranty

CHR-109-GRY

Adirondack Cape Cod style Chair Cover

Length 850mm (L) (Left to Right)
Depth 850mm (D) (Front to Back)
Height 1050mm (H) (Top to Bottom)
Neutral Grey Colour
New Waterproof taped Seams
New Premium + Fabric
1 Year Warranty

CHR-115-GRY

Readymade Bar Chair Cover

Length 650mm (L) (Left to Right)
Depth 600mm (D) (Front to Back)
Height 1200mm (H) (Top to Bottom)
Grey Fabric Colour
New Waterproof Taped Seams
New Premium Plus Fabric
1 Year Warranty

CHR-112-GRY

Currently Out of Stock until further notice. Please consider choosing an alternate size. Please contact us if you wish to discuss this product.

Stacking Chairs Cover

Length 700mm (L) (Left to Right)
Depth 700mm (D) (Front to Back)
Height 1100mm (H) (Top to Bottom)
Front Height 850mm
Neutral Grey Colour
New Waterproof Taped Seams
New Premium + Fabric
1 Year Warranty

CHR-113-GRY

Stacking Chairs Cover

Length 750mm (L) (Left to Right)
Depth 900mm (D) (Front to Back)
Height 1300mm (H) (Top to Bottom)
Front Height 950mm
Neutral Grey Colour
New Waterproof Taped Seams
New Premium + Fabric
1 Year Warranty

CHR-117-GRY

Round Chair Outdoor Cover

Diametre 1050mm (L) Distance Across Circle)
Back Height 750mm (H) (Top to Bottom)
Front Height 350mm (Top to Bottom)
Neutral Grey Colour
New Waterproof Taped Seams
New Premium + Fabric
1 Year Warranty

CHR-118-GRY

Round Chair Outdoor Cover

Diametre 1450mm (L) Distance Across Circle)
Back Height 750mm (H) (Top to Bottom)
Front Height 300mm (Top to Bottom)
Neutral Grey Colour
1 Year Warranty

CHR-119-GRY

Round Chair Outdoor Cover

Diametre 1800mm (L) (Distance Across Circle)
Back Height 800mm (H) (Top to Bottom)
Front Height 600mm (Top to Bottom)
Neutral Grey Colour
1 Year Warranty

CHR-114-GRY

Rocking Chair Outdoor Cover

Length 900mm (L) (Left to Right)
Depth 850mm (D) (Front to Back)
Height 1100mm (H) (Top to Bottom)
Neutral Grey Colour
1 Year Warranty