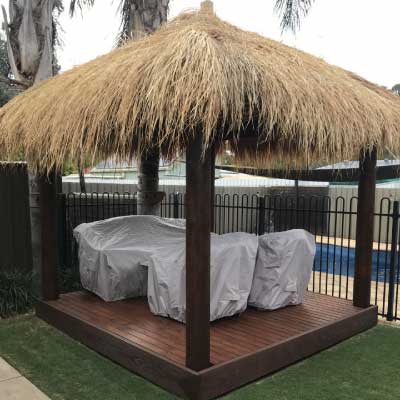 Outdoor Furniture Covers
Protect your furniture with our wide range of Universal fit Outdoor Furniture Covers. The large number of cover sizes means that our covers offer a semi custom fit to many furniture shapes and sizes.  We have Covers available for all types of Chairs, Tables, Modular Settings, Ottomans and Sofas including round, square and rectangle styles, as well as Covers for Sun Loungers and outdoor Umbrellas.
The Outdoor Furniture Covers range include many features making them very user friendly covers including Elasticated Hems, Breather Vents, Drawcord for pulling tightly around the Outdoor Furniture and Securing Straps with Side Release Buckles.
Coverworld Outdoor Furniture Covers are all Manufactured using a High Quality 600 Denier Woven Polyester Fabric with a 1200um water repellent coating on the underside making them highly water resistant. Covers are in a Neutral Grey Colour to suit most outdoor areas. Most sizes also include built in Breather Vents to help reduce moisture build up inside the covers.
If you are looking for the Best Outdoor Furniture Covers in Australia you have come to right place - Coverworld are cover specialists and have covers available for almost every popular every Outdoor Furniture piece being used in the Garden, Patio or Deck. The premade range of covers by Coverworld are also in stock in Australia and ready to ship.
Outdoor Furniture Covers
Outdoor Furniture Covers available to buy online, Coverworld offer a one stop cover shop for Furniture Covers for tables, chairs, umbrellas and all your outdoor furniture needs. offering the largest range of pre-made cover sizes in Australia and as the design of the covers includes tie down straps with side release buckles and elasticated hems they provide a semi custom fit, meaning Coverworld ready to ship covers are cheap to buy compared to custom made to order covers.
No matter if your furniture is small, large or even extra large with sizes up to 360cm length you should be able to find a cover for all of your garden, patio and deck outdoor furniture.
The covers are made from a polyester canvas fabric that has a waterproof PU underside which means that your furniture is protected all year round in all weather conditions, the 600 Denier heavy duty fabric is excellent quality. Most of the outdoor furniture covers are grey but we also have black fabric available for equipment covers.
Coverworld have been supplying outdoor furniture covers in Australia since 2007, we are cover specialists and can assist with all your outdoor furniture cover needs. If you cannot find the size that you need please contact Coverworld sales team who can help to source the best size to suit your needs.
FAQ ? Do Coverworld offer Waterproof Furniture Covers?
The woven polyester fabric has a PU coating on the underside this stops water penetrating the fabric, the waterproof level is determined with a water column test where a column of water is applied over the fabric and at a certain mm the water penetrates, the polyester fabric used in the Outdoor Furniture Covers range has a very high level of waterproof proficiency and it is only if a very heavy amount of water sits on the polyester fabric that water could penetrate.